"8 Now while he was serving as priest before God when his division was on duty, 9 according to the custom of the priesthood, he was chosen by lot to enter the temple of the Lord and burn incense. 10 And the whole multitude of the people were praying outside at the hour of incense."
Luke 1:8-10
    This week for the discipleship groups I gave them a prayer assignment. How is your prayer life? If you are like me you struggle. That's right, even though I am a Pastor, Chaplain, Bible Teacher, Father, Husband, Son, and passionate disciple of Jesus, I can struggle with being intentional with prayer.
    One of the benefits of COVID has been having more "down" time. However, I've noticed instead of taking advantage, I can feel so drained and worn that I end up spending all the down time doing anything but what I should be doing, praying. 
    Prayer works. I've seen it, I believe it, and I know it.
    Zechariah was from the tribe of Levi. This was the priestly tribe. If you were born a male and into a Levite family, you would serve in the temple as a priest and in the synagogues, etc. Zechariah was a prominent individual, with a reputation and respect. He was entrusted to go before God, place incense on the altar, and pray. By the time of the birth of Jesus, the services in the temple were greatly political and all based on reputation etc. They had nothing to do with righteousness. It just happens that Zechariah was considered a righteous person. Can you imagine. He's praying, preforming his duty. He knows what he has to do. He knows exactly what he has to recite. Then an angel shows up…..and he doubts the angel. You notice God didn't show up?
    No one ever notices that God doesn't show up, an angel does. The temple was believed to be the dwelling place of God. Zechariah was praying to God. Yet an angel shows up in the temple. God doesn't speak, an angel does. This signified that God was answering Zechariah, but he was ignoring the system and religious leaders. If God would have shown up or spoken, then they would have promoted their legalism and empty religion even more, giving more power to their control and to the temple. God answered Zechariah's prayer, the individual prayer. God answered Zechariah's prayer when he wasn't even praying for a child at that moment.
    God knows what we need, he doesn't need us to pray. He wants us to pray. Prayer is time to cut life out and spend time with your creator, your God, your saviour, your everything. We struggle with prayer because we are busy, we don't think God actually hears us, we see it as formal, something we have to do, not something we want to do. 
    Even though I struggle, I do my best to carve out time to spend time praying. Not formal prayers, but spending time talking and listening to God. I've never regretted it. I feel rejuvenated, I feel convicted, I feel peace, and I feel as though I've spent quality time with God.
    A strong prayer life is the mark of a strong disciple of Jesus. That is why I have the students this week diving into prayer. 
    I challenge you tonight to set 30 minutes aside, if you would like the prayer exercise that I gave my discipleship classes to do today, email me. G
Go into your room, turn the lights off, no cell phone, kneel by your bed or chair, and spend time with God. This time, Invite the Holy Spirit to take away distractions, to help you pray, and to pray for you. Then present your heart, not holding anything back. I want a moment like Zechariah, I'm scared for God to show up but I deeply desire him to. Remember it is about quality time of prayer not the type of prayer or the length of time.
---
"Whatever you do, work heartily, as for the Lord and not for men."
-Colossians 3:23-
    If you were to interview your close group of friends, what would they say in answer to the question…"What am I passionate about?"
    Would it be a group of things, such as they are passionate about their friends, grades, drawing, cooking, etc.? What if you narrowed it down, simplified and focused the question. "What am I most passionate about?" What would be their answer?
Steve Jobs - passionate about Apple, technology, and making it elite.
    Bill Gates - passionate about Microsoft, technology, and expanding tech influence.
    Steph Curry - passionate about Basketball
    Mother Teresa - passionate about lepers and the impoverished.
    Brad Pit - passionate about theater, art, acting.
    Mary Curie - passionate about science and finding out how radiation works.
    Elon Musk - passionate about pushing tech, science, exploration, and boundaries
    Yeshua bar Yosef - passionate about you. 
    In case you missed that last one, Yeshua bar Yosef would have been Jesus' Hebrew name and title that would have been used, even through his ministry. When people ask, "what was Jesus most passionate about?" The answer is always going to be US.
    No one accomplishes anything, has an impact, or achieves something unless they are passionate. Without passion, you become passive. Today as I look around I've noticed something. It seems as though that we've lost passion….and no one is searching for it, almost as if they haven't noticed or don't care that passion has gone missing. 
    Often times we ride on other peoples passion and don't even know it. You attend Bass Memorial Academy. There was a man that was passionate about the Seventh-day Adventist Christian movement and helped spread the message, he even talked Bass to donate land to build the academy. People were so passionate that they collected so many pennies they had to have the national guard trucks brought in to haul the pennies to be counted and processed. Passion for Seventh-day Adventist education. The shows you watch and music you consume, someone was passionate and wrote, composed, edited, thought, stressed, and drew because they were passionate. The country you live in, a bunch of guys got together because they were tired of royal oppression and were passionate about democracy and individual freedom. Your clothes, backpacks, etc. everything around you started and was given creation because of passion. God created you because He is passionate about you. So why are you missing passion? What is your excuse?
    "By this we know love, that he laid down his life for us, and we ought to lay down our lives for the brothers (1 Jhn. 3:12)." Jesus is passionate about you, he came down, lived, died, and rose again because the triune God is passionate about us. So again, why are we missing passion? Maybe you've misplaced passion. Your passion has been lost because you've mistook consumption for passion? Getting enjoyment from consuming something is not passion. 
    Jesus, Yeshua bar Yosef, says that we are to live as He lived. So we are supposed to be just as passionate about each other as He was. When you find and live your passion, it gives you clarity, purpose, definition, and it grows you. You feel fulfilled and jubilant. First and foremost I want each of you to find your passion, and don't list what you consume. Pursue that, however pursue it with and for Jesus. Get passionate about Jesus. Get passionate about spreading the good news that Jesus saves and is coming back. 
---
                                    Family Ministry Field Guide
     The Academy Church believes strongly in discipling our students, faculty and staff, and the surrounding community. Part of the transition of focus here at the Academy Church we are striving to focus on families. The Family Ministry Field Guide by Timothy Jones is an excellent resource for church members and families to have an idea for how to disciple their families and help the church achieve it's goal in focusing on family discipleship.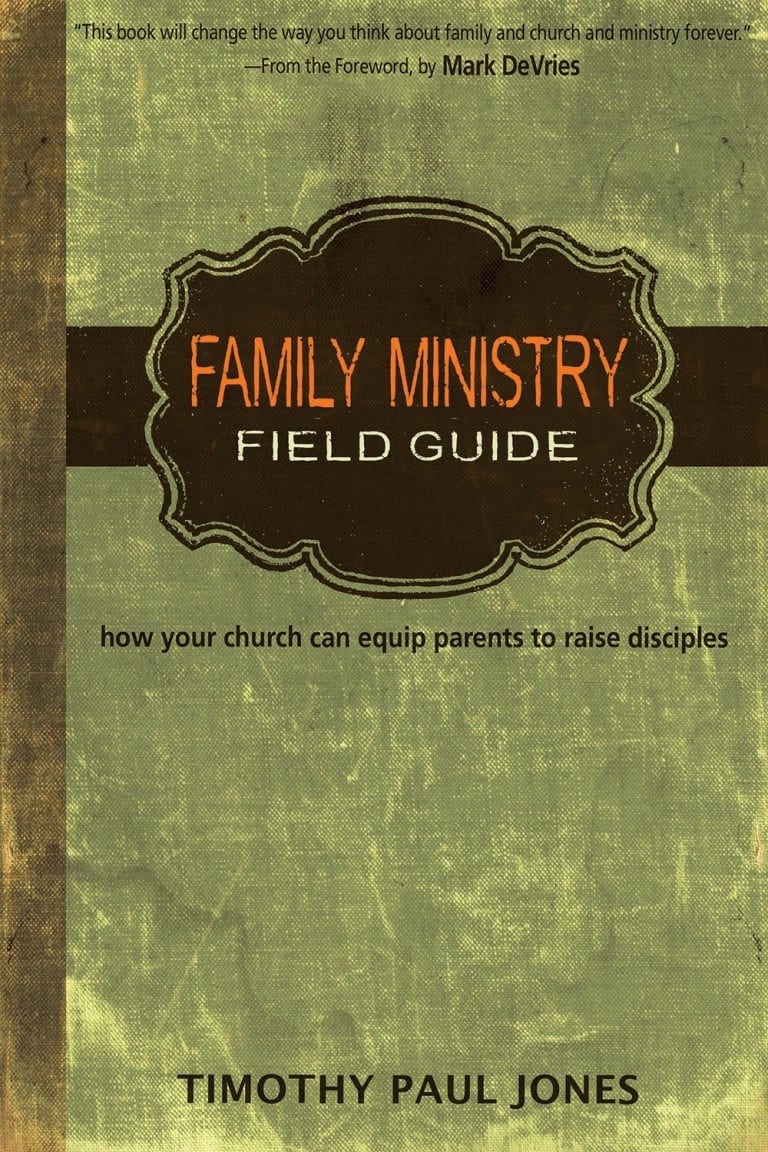 ---
                           Growing Young Book Recommendation
            The Gulf States Conference had a presentation in regards to Growing Young at one of their latest pastors meetings in late August. I came across the book Growing Young while working on my masters. The authors Kara, Jake, and Brad take real ministry experience and insights, combine quantitative data in regards to the Christian Church today and then produce a book that is overwhelmingly effective and resourceful.  Each of the elders received a copy this last quarter. Growing Young is especially important to what we are doing here at the Academy Church. Back in January of last year the decision was made to return the focus of the church on discipling the students and transitioning to becoming the Academy Church again. This book shows that what was decided to do was of the utmost important and that growing young isn't just an anomaly, all churches across North America and the world have seen the vital importance for moving the entire focus of the body of Christ on discipling the young. I'd recommend reading this whether you are a ministry leader, a lay leader, or just a regularly attending church member. I think you'll see the deep need for discipleship, focus on our emerging adults and young adults, and it might just change your perspective a little on the purpose of church.
---
                                            September 25, 2020
                                                                                              by Jaiden Shear [Student Chaplain]
"Be anxious for nothing, but in everything by prayer and supplication, with thanksgiving, let your requests be made known to God; and the peace of God, which surpasses all understanding, will guard your hearts and minds through Christ Jesus." -Philippians 4:6-7 
God plainly says how we should deal with anxiety and stress. He simply tells us to cast our burdens on Him. I think we can all agree that it is easier said than done. There is nothing remotely easy about telling someone else about the challenges you're facing on a day to day basis. So why is it so hard for us to simply give our worries to God? Shouldn't it be easier to tell God? Yes. However, giving our burdens to someone else can make us feel uncomfortable because we are not in control of the situation. When we are not in control, we feel like the inevitable may happen, which can cause worry. When we learn to fully surrender to God, we truly find peace.
            What does it mean to surrender to God?
In the literal definition, we find that it means to "give up or to hand over" something. If you know me, I like to keep my emotions to myself so it's often hard for me to accept this. People may relate with me, because they may not know how to express themselves to others, let alone God. However, I have learned through experience that IT IS OKAY NOT TO BE PERFECT! Everyone messes up and nobody is flawless. If we can except that piece of reality, we will be able to express ourselves easier. For example, I may not be the smartest in the classroom, and I 100% accept that. I may have difficulty in a class, but I know that I can rely on others and even God to help me understand what I am missing. This is a small and silly example but imagine the people who are having to go through bigger problems such as parents divorcing, money issues, unhealthy relationships, or even poor home environments? Now I am not downgrading any problem that we may face, but when we accept that we are sinners and acknowledge that God can help... It makes all the difference.
            Take note and be careful because life is not going to instantly be a breeze as soon as you surrender to God. Because you would be making a wrong assumption. Satan may throw even more at you. Matthew 7:7 says, "Ask, and it will be given to you; seek, and you will find; knock, and it will be opened to you." It is encouraging to know that God will be there with us and for us when we need Him, and this requires us to be vulnerable with God. Giving up and lifting your hands to God is not a commitment that everyone is ready to make. Surrendering to God is a choice and nobody can change that. When we accept that we are sinners, we can then bring ourselves to God and surrender all to Him completely and start to find peace. 
                                             September 21, 2020
"12 he entered once for all into the holy places, not by means of the blood of goats and calves but by means of his own blood, thus securing an eternal redemption."
Hebrews 9:12
    If you have been worshiping with us over at the academy church, the past two weeks we've been talking about worship. Both this past Saturday and the previous Saturday I mentioned a statement I want you guys to focus on.
    Building to Body.
    Before Jesus came, all of God's people were required to go to Jerusalem and worship at the temple. Before the establishment of the temple, all of God's people were required to worship at the tabernacle. That is why you see so much of the Old Testament take place in the area surrounding the tabernacle and the temple so significantly discussed. To God's people, the tabernacle and temple were everything. That is where they could see and connect with God. Many today forget that God's spirit does not dwell in a building, but dwells within us when we accept Jesus. It's not an opinion, it's just plain and simple biblical theology. 
    "Or do you not know that your body is a temple of the Holy Spirit within you, whom you have from God? You are not your own, 20 for you were bought with a price. So glorify God in your body (1 Cor. 6:19-20, ESV)." Combine the idea that we are God's temple with the idea that we are now the priesthood, every believer as it says in 1 Peter 2:9. What does that mean for worship?
    What that means for worship is that no matter our location, our worship should be consistent. I'm going to ruffle some feathers here and say the building should not effect the worship, the people do. We have this idea that our worship is a sacrifice like the Old Testament sacrifices and offerings. So they have to be just right, a certain way, and just so. 
    THEY DON'T
    That is legalism. What we do when we gather to worship is what makes the building special, not what it's name is or where it's at. There are two sides to the coin. When I offer up my worship and regulate everyone else's, I'm introducing legalism and Pharisaism. I cheapen the eternal redemption and sacrifice Jesus made for us. When I offer up just anything and call it worship, I cheapen the eternal redemption and sacrifice Jesus made for us. We are trying to answer and lead without the guidance of the Holy Spirit. When we trust the Holy Spirit, He will guide us in worship, and trust me, you will know true worship then. 
    I want you to know that why the building such as the church is important is because each of us brings our worship, our flavor, who we are and we come together and join together in praising God for the eternal redemption and sacrifice Jesus made. We come together to celebrate together the fact that we are saved. We come together to serve and support each other as a community. We come together to experience God as a connected, organic body. 
    Next time you enter a church, don't enter with the attitude that you are going to offer up sacrifices and appease God. No, go with the excitement that you are going to worship together as one body and experience God together as one body. That's what makes the Church special and important, it's our meeting point, it's our worship center, it's special because of who is in it, a part of it, and who we ask to come and experience through worship. Bring all your praise and all your pain. Bring all your fears, suffering, and all your thanks and let's worship together. Don't look around and judge, look around and praise and pray. Jesus came and died and fulfilled the requirements to a system that could never satisfy. Jesus came and died and we need to celebrate that. 
                                            September 14, 2020
"By this all people will know that you are my disciples, if you have love for one another."
John 13:35
    Love. 
    There's four types of love. Eros, which is sexual love. Storge, which is parental. Phileo, which is brotherly love, and agape, love without limits. What if I told you we cannot have genuine worship without love? What would you say?
    " And if I have prophetic powers, and understand all mysteries and all knowledge, and if I have all faith, so as to remove mountains, but have not love, I am nothing. 3 If I give away all I have, and if I deliver up my body to be burned,[a] but have not love, I gain nothing (1 Cor. 13:2-3)." Paul says that I can have all the faith, Spiritual gifts, prophecy, and knowledge in the world, yet if I don't have love, I have nothing.
    If we say that we are disciples of Jesus, then we have to love one another. The love used throughout the New Testament is Agape.
    I cannot worship unless I have love. 
    Last week we talked about how a significant part of worship involves my emotions. How many of you know that cold, formal worship where there is no emotion and no love? In 2 Samuel 6, David is chastised by Michal for his worshiping of God through dancing, singing, and playing instruments with all his might. Michal his wife condemns him. She seems to imply that she was watching him from afar. She judges his worship as self centered and sexual. David cuts back at her and they never have a close moment again.
    If Michal would have had love, she would have been happy for him. If she would have been filled with love, she would have gently asked what that was all about. If she would have had love, she would have trusted him that he was doing for God and not for himself. How often do we condemn those around us? We look at the girl singing praise songs at the top of her lungs and laugh at her and judge her voice. We look at the guitar player and say, "well he messes up a lot." We look at the clothes, the music, the hair, the shoes, who we sit by, how we are sitting, and we look at our phones instead of joining with those leading worship. We are absent of love. When we are absent of love, we are absent of Jesus. It's as simple as that.
    Next time you are in vespers, sabbath school, a church service, small group, etc. Instead of judging the how of the worship think about the who. Pray for the leaders of the service. Join in song and sing, even if you don't know the words. Think about how awesome it is that they are willing to get up front and lead. Think about how you can share in expressing your love for God and you will find genuine worship.
    When we focus to much on the "right way" of worship or with what we think is comfortable, we end up throwing out a lot of condemnation and not love. We end up turning away instead of bringing in. When we don't join in singing, reading, etc. during the worship service we cut ourselves off from experiencing a deeper relationship with Christ. We can get rid of Jesus in the very service that is meant to experience His presence. 
    How can you show love to the people around you this week? How can you experience worship by living agape to your fellow human beings and brothers and sisters in Jesus?
                                             September 9, 2020
"12 But many of the priests and Levites and heads of fathers' houses, old men who had seen the first house, wept with a loud voice when they saw the foundation of this house being laid, though many shouted aloud for joy, 13 so that the people could not distinguish the sound of the joyful shout from the sound of the people's weeping, for the people shouted with a great shout, and the sound was heard far away."
Worship.
What are the first thoughts that come to mind? Oftentimes you will hear many things attributed to worship. I started reading through Ezra this week. Here we find God's people returning from exile in Babylon under Cyrus. Ezra has returned with a group of people in order to help restore / rebuild Jerusalem and Judah.
For the next couple of Sabbaths I want to talk about Worship for my sermons. So for the next couple of Chaplain's Corners we will look at worship.
So what popped into your head with the word, Worship? Prayer, singing, judgement, fear, love, grace, church, home, reading? I hope some of those at least made it into your thoughts.
There are a few types of worship mentioned throughout scripture. There is Good worship and Bad worship. Seems like a no brainer, but in fact many people often overlook this. There is also private worship and corporate / communal worship. 
In Ezra we see communal worship taking place. The people are assembled in order to rebuild the temple. The temple is symbolic for what makes the Hebrews unique. Solomon's temple was built and blessed with the presence of God. So when the Chaldeans (Babylonians) showed up and destroyed the temple and carried off everything, it was more than devastating. It symbolized God removing himself. The people are rebuilding the temple foundations in Ezra 3. The young start worshipping with songs and shouts. The older generations who remembered the beauty of Solomon's temple, cry. It must have been loud on both parts in order for it to be recorded as blending together for those surrounding not to be able to know the difference.
Here is the thing, the important part that many people often overlook in regards to this event taking place. The author of the book does not condemn the act of worship. In fact you see sympathy, sadness, empathy, and understanding at what is taking place. The people gathered are worshipping God. Are they sad? Yeah. Are they also happy? Yes. On their minds at that moment they probably remembered all those who were lost. The destruction, the horrible things they had to endure. The people gathered to worship do not hold anything back. 
What would happen if this were to happen today? If we were to gather together in vespers, as a family or families, in church, and when we sing our songs and engage in worship do we tap into empathy. Do we connect and present ourselves and thoughts to God? That's what the people of Israel are doing here in Ezra. Is there emotion? Yep. But they are offering it up to God. Too often we hold back. We don't want to show emotion. We don't want to get emotional. We are scared. And ultimately we miss out. When we worship God, there is going to be emotions involved. When we sing our songs corporately, listen to the sermon, study in small groups, or gather as a group, it is healthy and biblical to present our memories and emotions to God and let Him take them. Does that mean we go crazy? No. Being dramatic is not worship. God does not do Drama. Here in Ezra you don't see people thrashing about, you don't see them rolling around. You see them opening themselves up to God and worshipping Him. Worship is a two way street. 
"As the condition of the people began to open to His mind, He saw that the requirements of society and the requirements of God were in constant collision. Men were departing from the word of God, and exalting theories of their own invention. They were observing traditional rites that possessed no virtue. Their service was a mere round of ceremonies; the sacred truths it was designed to teach were hidden from the worshipers. He saw that in their faithless services they found no peace. They did not know the freedom of spirit that would come to them by serving God in truth. Jesus had come to teach the meaning of the worship of God, and He could not sanction the mingling of human requirements with the divine precepts (Desire of Ages, pg. 84)."
Worship should never be dry and disconnected. Worship is simple. Worshipping God connects God with what we have done, what we've been through, what we are thinking, and even connects God to who we are. Sing out of sadness, sing out of hope, sing out of love, sing out.